Friday, September 28, 2012
Do you like this story?


@jasbains_bla on Twitter posted this pic illustrating one fun way of handling the ubiquitous Kijiji scammers. This is the scam that starts with a text asking "What is your best offer?"


Even if you tell the scammer to suck your nuts, you'll hear "Okay i have no problem with the price and i will like to know the present condition of the item because i am getting it for my friend but am On a business trip..."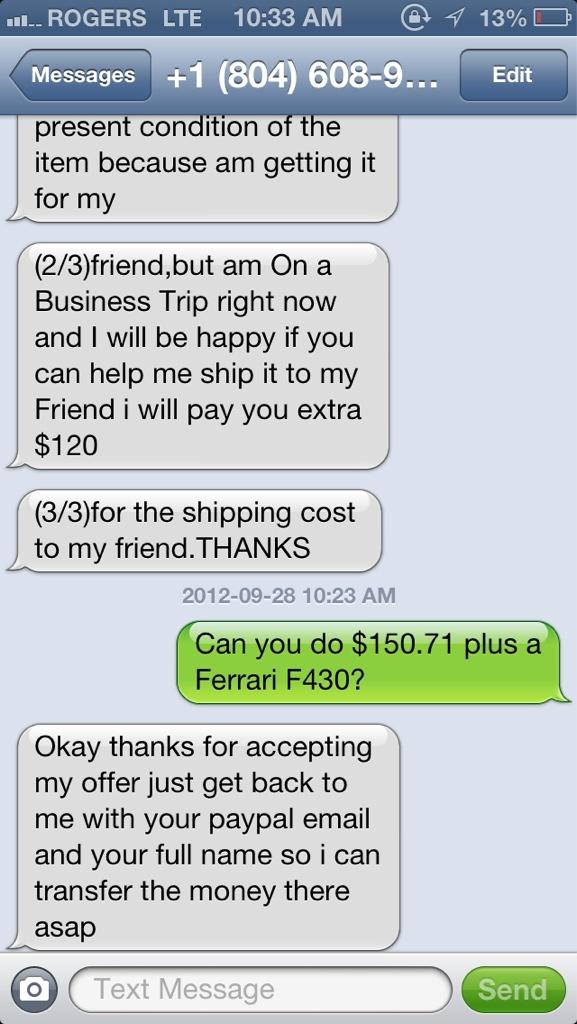 A similar scam with snarky remark from
@TalkofEtown
:
Riiiight.You're buying the package as a birthday gift for "my pastors niece who has just been transferred to West Africa and it my first time of buying something online" and you're paying through Paypal. Nice text message scam, jerk.
Don't fall for it! In person, with cash, be safe.
This post was written by: Gord McCord
Gord McCord, webmaster at You Suck at Kijiji, makes fun of funny things on Kijiji. Do not take him too seriously. Also do not take yourself too seriously. Follow him on Twitter